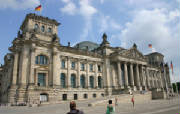 Berlin
The Berlin parliament building, as the capital of Germany, serves as excellent educational opportunity. On a visit to the this grand building, tourists re offered the Arts and Architecture tour. Although the waiting line of upto One and a half hours, and the risk of being turned back when parliament is in season, many visitors have comented that it is truly worth the wait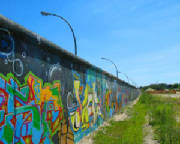 Museum
For those who prefer the "learning" side of German, they can visit the Berlin Wall museum. Although not interective, the audie tour and the layout of the building enables visiters to feel the spirit of this great wall.
Alternatively, you can hope to visit some of the ruble and remains of the actual wall. Much of it has been pillaged by tourist to keep as a souveniere. Although interesting, the enjoyment level is limited.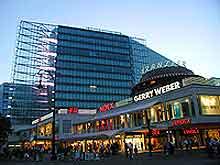 Shopping
Kaufhaus Des Westens, the second largest mega shop in Europe plays host to an extensive range of consumer items. With departments ranging from food to fashion, travellers are free to use the amazing glass paneled lifts which give a great view of the entire complex




Entertainment
Ever heard of: Run Lola Run?
German movie enthusiasts are always attracted to the Potsdamer Platz Film Museam. Tracing the world of the film industry in Germany, and also playing host to the Jewish Film festival, the museam gives a disturbing look at how the Nazis used the film industries to boost their repute and image.